The Zenventory mobile app allows you to accomplish warehouse tasks that you would normally do away from a computer station. Receiving, Order Picking, Inventory lookup and adjustments, barcode scanning, and moving seemlessy between multiple warehouses are all available on the mobile app.
Available on both the Google Play and Apple App stores.
Dashboard
***Once logged in you will be directed to the dashboard, which will
have the following:
1. Selected active warehouse
2. Available Cycle Counts - shows the number of available cycle counts.
3. Expected Deliveries - shows the number of open Purchase Orders.
4. Orders Ready to pick - shows the number of customer outbound orders available to pick.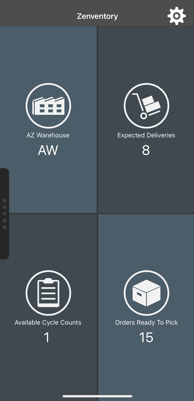 Main Menu
**To access the main menu you will need to swipe left on your device, then you can select one of the following
1. Search inventory
- can search product inventory numbers, and make inventory stock adjusments.
2. Cycle counts
- counts can be completed here
3. Orders
- pick orders here
4. Receiving
- receive new inventory deliveries against an existing Purchase Order(PO) or without a PO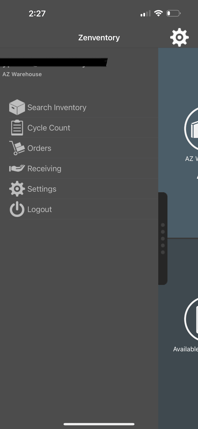 Settings
**You have the ability to enable or disable four different settings, as well as access to sync database between the cloud and mobile app, or change your active warehouse.