The mobile app allows you to search in stock inventory and update stock levels.
1. To lookup inventory numbers or make individual item stock adjustments swipe left from the dashboard and select "Search Inventory".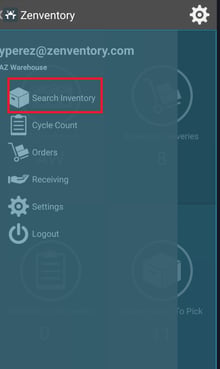 2. There are three ways you can search for inventory:
select the order you wish to pick by tapping on the SKU number in the list
tapping the search field and scanning an item barcode
by hitting the barcode icon to use your device's camera to scan an item barcode.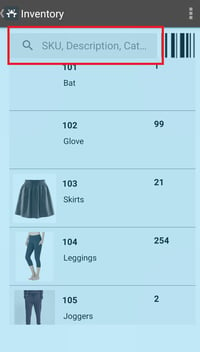 3. Adjusting Stock levels
Click on the intended item
Add an unexpected item is a way to add quantities of an item to a new location, new lot number, or new expiration number, but does not have to be hit to just adjust existing quantities.
To adjust existing quantities, a user would just click on one of the existing quantities after pulling up an item and enter in the found/damaged counts.
Then on the bottom right click on the orange button that says, "add unexpected item"

4. Add either found or damaged items

The option to leave a note is also available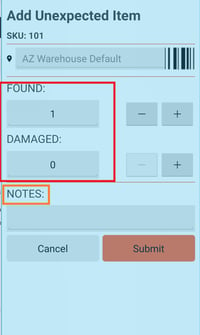 5. Click on submit on the bottom right